IRD7100, Dual Channel, Accelerometer Input, 0-20 mm/s rms, Al Die Cast IP65, Digital Display, 240VAC
IRD7100 Series comprises of Reliable and Economical Vibration Transmitters. These Transmitters provide Monitoring and Protection from High Vibration. The Transmitter is enclosed in a IP65 Enclosure and can accept a standard 100 mV/g Accelerometer as an Input (Sensitivity and Input type can be Customised on request).
Industry Standard 4-20 mA output and 0-5 V DC output proportional to Full Scale Vibration is provided. It also has Alarm and Trip Relay Contacts for Protection. MODBUS Output and Buffered Output is available on request.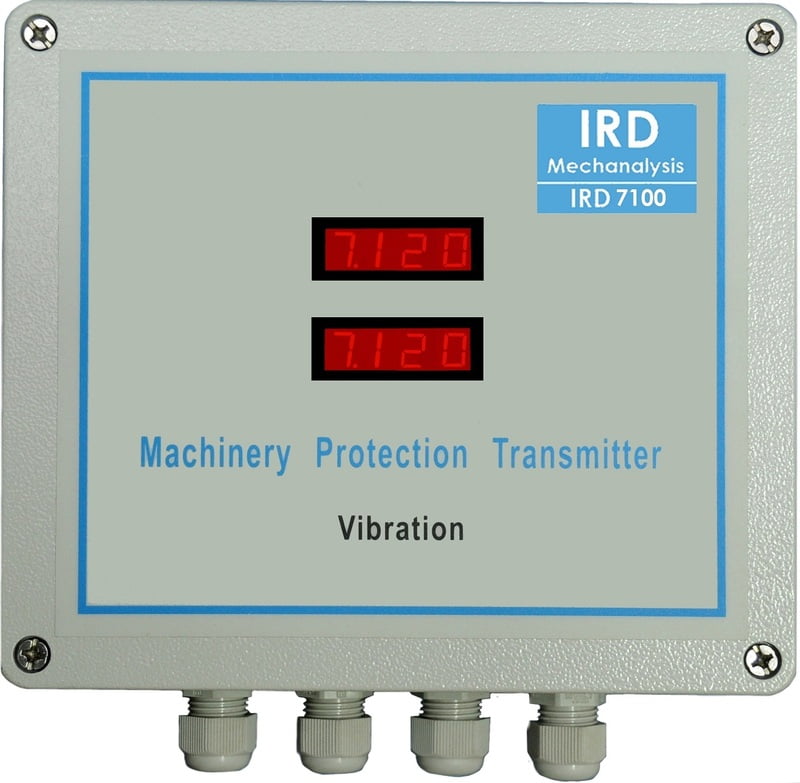 Product Details
Specifications
This Part Code M712014332 corresponds to:
Two Channel
Accelerometer Input
Full Scale Range: 0-20 mm/sec
Scaling: RMS
Enclosure: Al-Die Cast IP65
Digital Display
230 V AC Input Supply
Technical Details
No. of Channels

Dual Channel

Enclosure

Aluminium Die Cast

Input Power Supply

230 V AC

Input Sensor Type

Accelerometer

Full Scale Range

0-20 mm/s RMS