IRD531 (531) - Industrial Vibration Sensor, 4mV/mm/s, 2 Pin MS, 1/4"-28UNF Female
IRD531
is a Piezo Velocity Sensor that provides Dynamic AC output (mV) proportional to Vibration Velocity. It is used with Continuous Vibration Monitoring Systems. It is ideal for Monitoring Vibrations of Pumps, Motors, Fans, etc.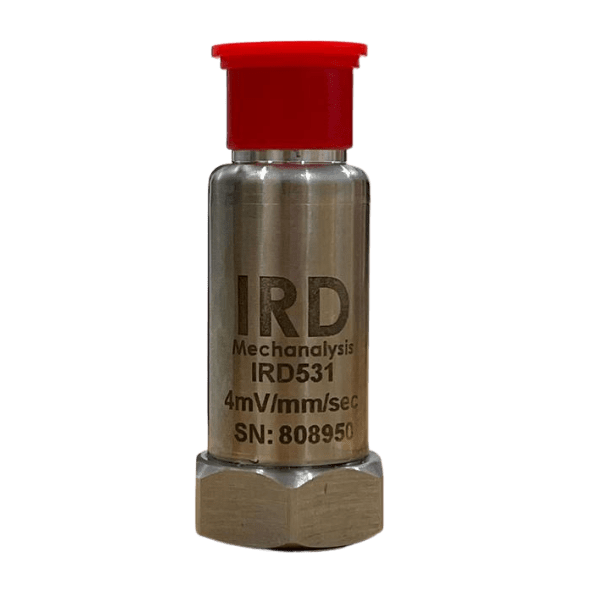 Product Details
Specifications
Which Portable Instruments of IRD Mechanalysis can work with IRD531?
Which Online Systems of IRD Mechanalysis can work with IRD531?
IRD7400
- Loop Powered Vibration Transmitter
IRD7100
- Machinery Protection Transmitter
IRD8800
- API 670 Compliant Machinery Protection Monitor
Can I measure Vibration Acceleration using IRD531?
No, Vibration Acceleration cannot be measured using IRD531. You can only measure Vibration Velocity or Vibration Displacement using IRD531. If you wish to measure Vibration Acceleration, then please look at
IRD521
or other
Accelerometers
How frequently IRD531 needs to be Calibrated?
IRD531
is hermetically sealed and is therefore having an Ingress Protection of
IP68
. Once made in the factory, it cannot be altered or recalibrated. It can only be checked for proper calibration.
ISO
recommends checking Calibration of Test and Measurement Apparatus such as Vibration Sensors at a frequency interval of
1 year
Technical Perfomance
Mounted Base Resonance (nominal)

22 kHz

Sensitivity

4 mV/mm/sec

Frequency Response

2 Hz to 6 kHz

Isolation

Base Isolated

Range

1000 mm/s pk

Transverse Sensitivity

Less than 5%
Electrical
Electrical Noise

0.1mg max

Current Range/Constant Current Excitation

0.5mA to 8mA

Bias Output Voltage

10-12 Volts DC

Settling Time

2 seconds

Output Impedance

200 Ohms max

Case Isolation

More than 10 to the power 8 at 500 Volts
Mechanical
Case Material

Stainless Steel

Sensing Element/Construction

PZT/Compression

Mounting Torque

8 Nm

Weight

125 gms (nominal)

Mounting Thread

1/4"-28 UNF Female
Environmental
Operating Temperature Range

-55 to 140 Deg C

Sealing

IP68

Maximum Shock

5000g

EMC

EN61326-1:2013